my art and design to suit your needs
The beauty of working in the arts is that your work can be your passion and I am passionate about making work that is everything you want and need it to be.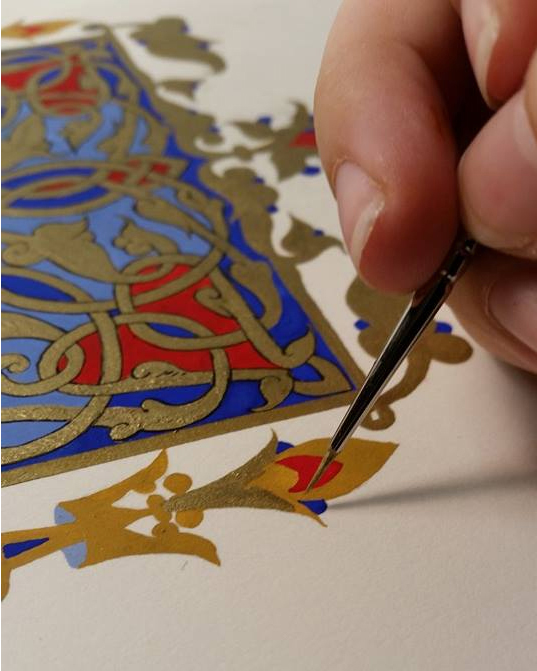 Perfection comes from good process.  Process comes from repetition, knowledge, and active problem solving. I am a process engineer and that means that all my work receives the same meticulous craftsmanship.
I've spent my life in the study of art and the pursuit of perfection. After more than a decade formally studying fine art and design, perhaps surprisingly, you guessed it: I still work in the arts.
By day, I'm a production artist who works with marketing agencies to turn little ideas into big projects. That means a post-it note can become a layout. A style guide and rough comp can become a multifaceted catalogue.
By night I'm a fine artist who works primarily on commission doing a mix of calligraphy, manuscripts and watercolor projects. While I obviously have styles I am drawn to (particularly romantic realism) art needs to fulfill the desires of both the artist and the owner and I love making art that my clients love. 

Do you have a catalog or pricer to build?  Daunted by the prospect of building out hundreds of pages? I've got you covered. I'm an expert turning raw data in collateral. 

Award Certificates
You've done the work, now keep that achievement visible in your life. Give that memory the credit that it deserves with the quality of art you've earned.

Your Dream Manifest
Sometimes we need help to make our best imaginings possible. Let me be the one to help you bring your dream into reality so you can better enjoy it.
Nora was both professional and a joy to work with. She constantly updated me on her progress and made sure to consult with me on any changes or additions. Communication was beyond excellent, and it is clear that she is not only an amazing talent, but that her work is a labor of love.
It's rare that one has the chance to work with someone of this caliber and I highly suggest you do not pass up the chance if you get it.